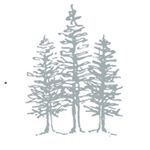 Beautiful Gifting
Giving meaningful and beautiful gifts doesn't need to be stressful. Let Mercy Forest Co. lessen the load and take care of curating and sending your chosen items to loved ones in less time than it would take you. Use one of our pre thought out gift boxes, or choose to customize your gift with add-on options or engraving. We will take care of perfectly packaging your selections and sending them off within two business days of your order. Simple. Beautiful. Meaningful.
Hello! Welcome to Mercy Forest Co.
Mercy Forest Co. is a curated gifting service that will help you be intentional in your gift giving, for all of life's moments - both the highs and lows. It provides beautifully curated items, carefully wrapped and presented in a simple box with a meaningful (your words) hand written (by us) note. Your Mercy box will send within 2 business days of your order to reach your special someone in the moment. It is with gratitude that I welcome you here -- Mercy Forest Co.

xo Melissa